Thanks,
Jana Harrison
, for this different format. I like!
Moss, M. (2001). Brave Harriet: The first woman to fly the English Channel. San Diego: Harcourt, Inc..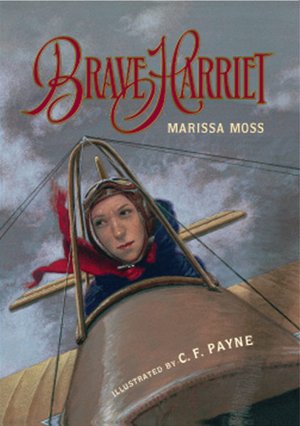 Age Level: 6-9
Genre: Brave Harriet is a picture book because it contains pictures/illustrations on all pages. The words and illustrations add to the overall message of the text.
Summary:
The book, Brave Harriet: The First Woman to Fly the English Channel, is about Harriet Quimby- the first American woman to get a pilot's license and the first American woman to fly solo across the English Channel. Her successful landing on April 16, 1912 was overshadowed by the sinking of the Titanic on the same date.
Reflection:
Our school uses Covey's The Leader In Me leadership/character building lessons. After reading this book, I immediately thought of the leadership habit- "Begin With the End in Mind." The main character uses determination and courage to follow her goal and dream of aviation in a time when women's roles outside the home were limited especially in the field of aviation. Harriet would not and did not give up on her dream even when others tried to discourage her.
The illustrator, C.F. Payne, uses page bleed on every illustrated page and many pages use double-spread (pgs. 1-2, 3-4, 13-14, 23-24, 27-28). Covering the entire page with illustration adds to the story's message of the vastness and openness of the sky in terms of flying and aviation. The double spread makes the eye move from one page to the next indicating motion much like an aeroplane would do in this story. The illustrations also play a crucial part in the story on page 26 when Harriet does the feat of finally landing in France after crossing the English Channel and no reporters take note because of the Titanic sinking simultaneously. The only mention of the Titanic in the story is in the illustration of the newspaper headline. Without the illustration, one might not know the significance of the date.
Big Question: Imagine you are Harriet Quimby on April 16, 1912 after just landing in France from flying solo across the English Channel. What would your diary entry look like on that day? Describe in detail the thoughts and feelings of Harriet.